#NigerianPolice: Victim detained, rapist freed in Imo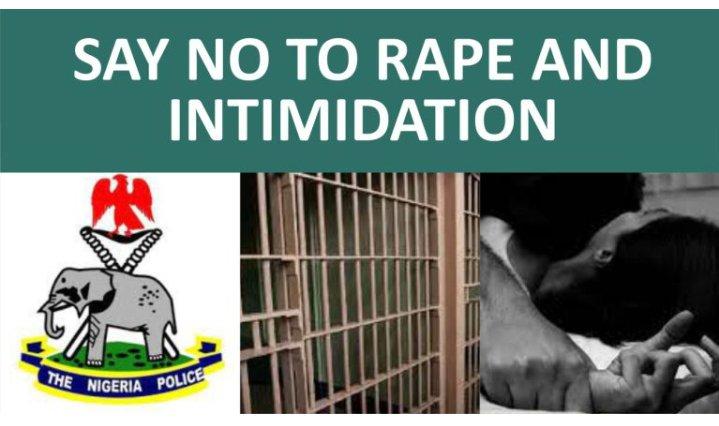 #NigerianPolice: Victim detained, rapist freed in Imo
Nigerian Police detain rape victim, 3 neighbours, free alleged rapist in Imo
Blessing a Student of Federal Polytechnic Nekede Owerri, said that officers at the Nekde/Ihiagwa Divisional Police Headquarters in Owerri West Local Government Area of Imo State detained her and three others neigbours after being beaten and almost raped by another student.
The student who spoke to www.otowngist.com said that a fellow student identified as Ikedi Okoro was trying to force his way on her while also beating her when her neighbours came to rescue her but does not understand why she and three of her neighbours ended up sleeping in the Police cell.
An eye witness said that the victim Blessing on Tuesday evening was shouting of rape from her room when her neighbours at a Lodge in Umuerim Nekede rushed in and found the Ikedi Okoro gripping her to the wall and threatening to deal with her if she screams further.
Blessing said that she had earlier slapped Ikedi when he refused to stop his advances, while Ikedi retaliated by forcefully stripping and beating her.
She said their female caretaker was the first to come into her room before Ikedi then disappeared from the scene.
Police detain rape victim, 3 neighbours, free alleged rapist in Imo
Her aggrieved neighbours went to Ikedi's lodge, brought him back to their lodge to understand why he wanted to rape their neighbour which led to tempers rising.
During the confrontation according to one of Blessing's neighbours, Ikedi ran away from them and they chased and caught him.
Ikedi gave one of the neighbours who caught him a huge bite on his chest and a fight ensued after.
It took the intervention of the community vigilante to calm. the situation, after which it was handed over to the police the same evening.
Blessing and three of her neighbours were detained while other neighbours were said to have paid Ikedi about twenty thousand Naira N20000 which he alleged was his hospital bills as a condition to withdraw the case from the police station so as to facilitate the bail of Blessing and the others .
The police officers involved in the matter refused to listen to the rape side, saying that Ikedi in his statement said Blessing and her three neighbours were cultists who were attacking him.
Ikedi Okoro the alleged rapist was walking freely inside the police station on Wednesday while the victim and those who intervened for her had already done a night in the police cell.
The four of them were later released late Wednesday on bail with about Seventy Thousand Naira N70,000 spent in the process.
A deeper investigation revealed that Ikedi had told the police officers that Blessing was his girlfriend who he had been sleeping with,, saying that the rape shout was a not only a false alarm but a fake one.
Blessing explained to the officers that her relationship with Ikedi who was in her room where the incident took place, had no sexual activities in it.
She said that no matter how she explained to the officers, they told her she was lying and would have to spend the night in the police cell to learn her lessons.
Despite being bailed without their phones, the four of them were also made to sign an undertaking that they would never go after Ikedi before getting their phones on Wednesday.
Following their release Blessing revealed that Ikedi sent her a text message, telling her he will see to the end of the issue since she had the guts to call her 'boyfriends' on him.
Blessing and her neighbours said that despite showing the police the text message, Ikedi still walks free with no invitation or interrogation by the Police officers in that division, especially the officer handling the issue who was identified as Abu.
While at the station on Wednesday, Abu was more concerned about the bail money than listening to the real issue in the matter and every effort to talk with him proved abortive.
In another development, one of Blessing's neighbours had said that the patent drug store owner who treated Ikedi on Tuesday night had come after them to pay her.
While they revealed that the sum of twenty thousand Naira had been given to Ikedi for that, the drug store owner said that she had no business with Ikedi, adding that they must pay her, else she will go back to the police officers.
The neighbour said that one of the boys who slept in the police cell on Tuesday night had agreed to pay the woman when he gets money.