Nigerien Forces Kill Four Libyan Arm Suppliers Attempting To Cross Border Into Nigeria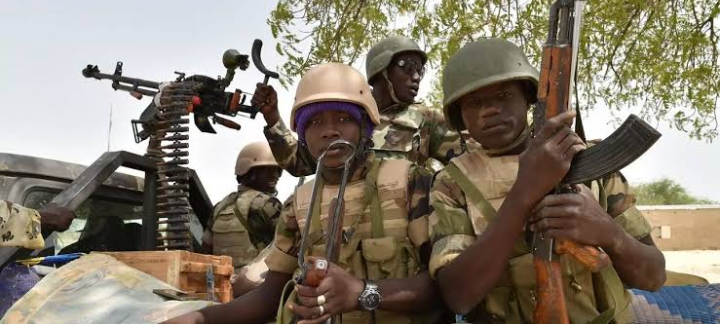 Nigerien Forces have killed four Libyan arm suppliers attempting to cross border into Nigeria.
The Libyan arm suppliers were intercepted before reaching the border that leads to Nigeria in the Niger Republic on Sunday.
It is believed that the arms dealers were arm suppliers to the bandits that have been terrorising Nigeria's northwestern region.
Apart from the bandits, Nigeria is also battling Boko Haram insurgency in its northeast region.
According to the Institute of Security Studies (ISS), Boko Haram, which has its roots in Nigeria, poses a potential danger to Nigeria's neighbours should its influence spread beyond the country's borders.
The risks presented by the militant group are amplified primarily through the prevalence of porous borders in the West African sub-region. Countries like Benin, Cameroon, Chad and Niger are all potential targets due to their proximity to Nigeria, their demographics and their socio-economic realities.
At greatest risk are Cameroon and Niger, which share considerably vast borders with Nigeria.
Nigeria's borders with Benin and Chad, ISS said are fairly short – 773km and 87km long respectively. In comparison, Nigeria's borders with Niger and Cameroon span 1 497km and 1 690km respectively.
The vulnerable nature of these borders heightens the potential spread of terrorist activities into the neighbouring countries.
"Their vulnerability to the spread of Boko Haram is compounded by the fact that Niger and Cameroon have borders with the northern Nigerian states, where Boko Haram already exerts a strong influence," ISS said in an article.
The border with Niger, for example, stretches along Sokoto, Katsina, Jigawa and Yobe states. This proximity to northern Nigeria is, therefore, a particular threat to Niger's already fragile security, given the relative ease with which terrorist elements can cross into the country.
Cameroon faces a smaller risk than Niger as only two of the four Nigerian states – Taraba and Adamawa states – bordering Cameroon is part of northern Nigeria, while Cross Rivers and Benue states are in the south-eastern and middle eastern regions of Nigeria.
Over the years, there has been a huge effect of the presence of Boko Haram within these countries which continues to pose a security risk to the safety of the people's lives and their properties.