Owerri are you ready, Agro Story training is tomorrow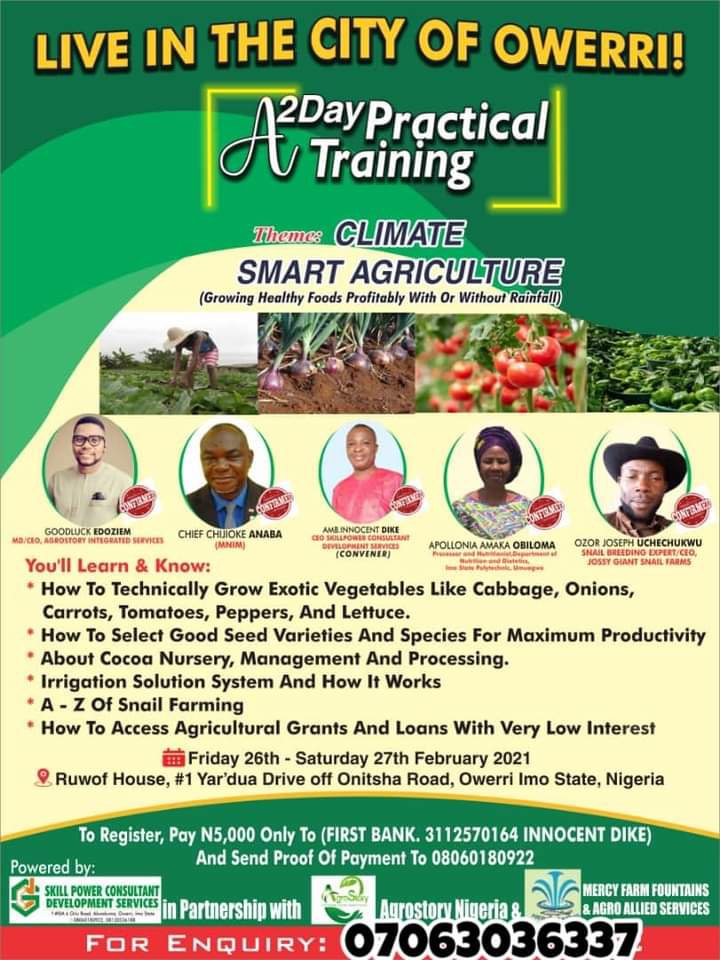 Owerri are you ready, Agro Story training is tomorrow.
It is set to go down, Happening live in Imo State tomorrow the 26th to 27th of February is the first Agro Expo partnership Program 2021.
Have you registered? If yes then you are ready…
The program which is Themed: Climate-Smart Agriculture
Date: Friday 26th and Saturday 27th of February, 2021
Time: 9:00am
Venue: Ruwof House, Number #1 Yar'dua Drive off Onitsha Road, Owerri Imo State, Nigeria
Agrostory Nigeria will be training over 1000 farmers in Owerri, Imo State, Nigeria tomorrow on:
1. How to grow cabbage,
2. How to grow lettuce
3. How to grow carrots
4. A-Z of snail farming,
5. How to access loans for agriculture and many more…
You can agree with me that these veggies are of high demands now and any farmer who can grow them, will eventually swim in wealth.
Mr. Goodluck Edoziem and his well-trained team will be teaching on how to grow food all year round with or without Rainfall, and he will educate the young farmers on how Climate Smart Agriculture is helping farmers and how Irrigation solutions could be a seasoning to meal.
If you're willing to gain value and learn more about the secrets of Vegetable Farming, then make the Sacrifice, be there!!!
For more details See flyer…