#Politics: PDP shut down Imo for SamDaddy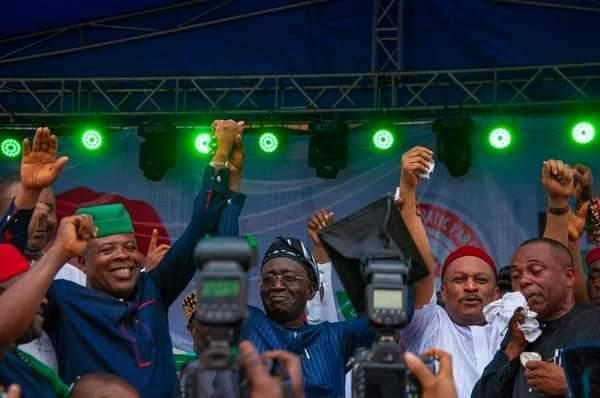 #Politics: PDP shut down Imo for SamDaddy
It rained joyous as men and women of timber and caliber came through to welcome an industrious son of the soil…
Quingist Empire was live at the venue to witness the grand reception of a man like, Sen Samuel Nnaemeka Anyanwu.
The events which was supposed to be a reception but turned to a carnival, campaign and all those at Kanu Nwankwo Sports Centre felt it. It was heart warming that Imolites in their thousands stormed the venue of the event in receive their son. SamDaddy would go home basking in the revelation that he still enjoys goodwill in the PDP and on the streets.
Having four governors, most members of the National Working Committee, PDP BOT excos, Senators, House of Rep members grace his reception shows the political growth the Senator has attained over the years. By his position as the National Secretary of the party, he would naturally be a rallying point for his party in the state and help to strengthen the party.
I noticed that Imo PDP aspirants tried to turn the reception into a campaign rally. House of Assembly, House of Reps, Senatorial and Governorship hopefuls of the PDP in the state had their supporters shouting their names to high heavens. It was a contest of whose supporter would make the most noise. Politicians will always make the most of every occasion. Who wouldn't want to cash in and impress the National Chairman that he is loved and worthy of the party's ticket for the position he/she is vying for? It is not often the National Chairman of a party in the standing of the PDP visits a state. SamDaddy created a platform for the aspirants and they made the most of it.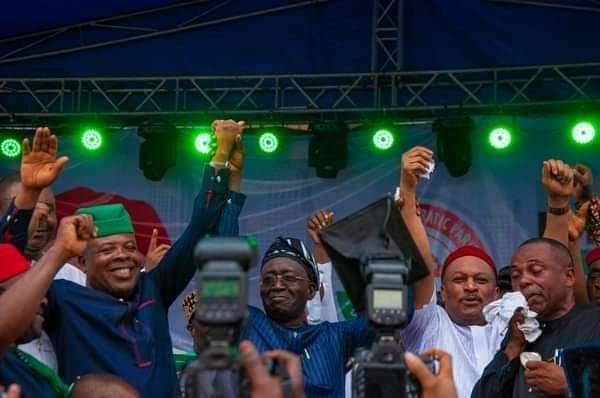 For me, the highpoint of the event was the speech delivered by Chief Barr Charles Ezekwem. Powerful, Concise and Reassuring. Yesterday's event was supposed to be SamDaddy's but he subtly allowed his friend and brother Ikemba Okigwe, to take the shine. Ikemba was the golden boy. Decorated in the presence of the leaders of the party, a befitting honour to a man who led the party to victory and his return to the party is timely and reasonable.
I saw Rt Hon Emeka Ihedioha hugging and exchanging banters with Hon Fabian Ihekweme. Both men were laughing heartily at their jokes. It was a sight to behold.
The like of King Saro Wiwa, and Shama Melody were live at the event dishing out great sounds.