Quingist Empire Popcorn Business Plan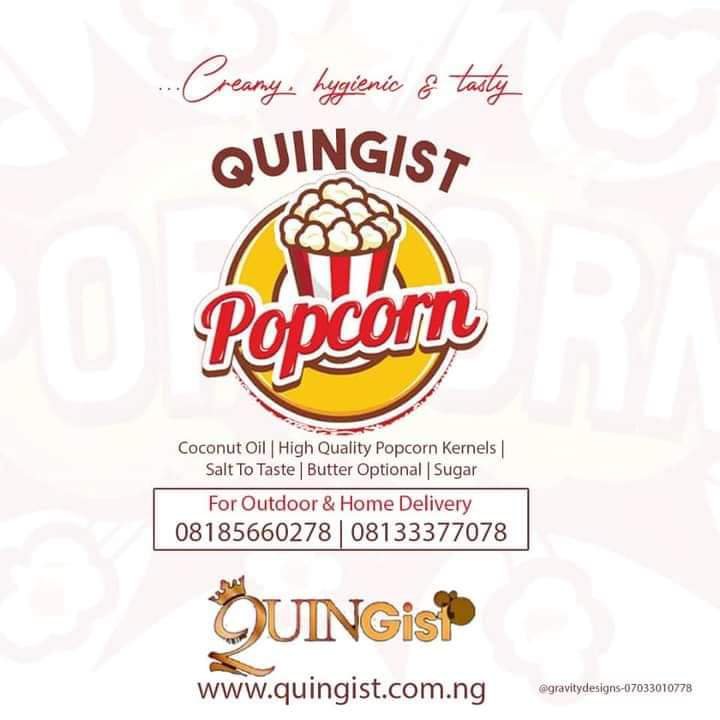 QUINGIST EMPIRE POPCORN BUSINESS PLAN…
By
Duru Eunice Adaku
Quingist Empire
12th, June 2021
Since this is a real business I'll be adding as much detail as possible.
EXECUTIVE SUMMARY
Quingist Popcorn is a small-batch popcorn maker with unique flavors that serves at popular locations like wineries, farmer's markets, and other live events. As the brand grows locally, we plan to test market selling our products in local grocers.
PRODUCT:
This is our rotating menu of small batch popcorn flavors. Each popcorn comes in a large size clear plastic bag. Tentative retail prices are listed below.
At our spot – N100
Out doors – N150
MARKET:
We will serve customers who visit our spots in Imo State and also at events we covered in our moveable electric popcorn machine
The population of these people is approximately 20,000.
We have plans to take over local bars and attend special events.
This market offers Quingist Popcorn more than enough potential customers to operate profitably.
COMPETITION:
There are numerous local competitors offering popcorn at events. We plan to differentiate our product through a combination of unique popcorn flavors (like Pumpkin Spice and Salt & Vinegar) in addition to better branding that uses imagery of hot air balloons (a common sight in this area) and consistent customer service.
MANAGEMENT:
Quingist Popcorn will be operated by the owner (Miss Eunice Adaku Duru) in the early days. In the future, we will explore hiring part-time staff for operations and to expand locations.
FUNDING NEEDED:
We will require about #130,000 in capital to be able to purchase items for business. This will cover the costs of purchasing a moveable electric popcorn machine, I have already done all other needed documentation.
FINANCIAL PROJECTIONS:
We anticipate paying off all business debt within 12 – 16 months of opening. We anticipate hitting this mark even with modest revenue expectations and operating everyday. After paying off all debt, we will consider reinvesting profit into growth for the company.
MISSION STATEMENT:
Our mission is to provide the highest quality, small-batch popcorn with creative flavors.
We continually think of ways to create consistent, memorable, and fun customer interactions.
Our mission also includes being a good member of the community by donating to and helping fundraising efforts of deserving local organizations or people.
MARKET ANALYSIS
Industry overview: There are at least 5 million of popcorn consumed annually in the Nigeria according to The Popcorn Board. This ready-to-eat popcorn could be a future growth opportunity for this business as well. This is a product with strong consumer demand and growth opportunities.
TARGET MARKET:
At first we will generate sales from individuals and families that attend local events where we vend. Our market has over 40 bars, schools within 15 miles, where we can vend regularly. As we begin generating more sales, we will work to identify a more specific target market.
COMPETITION:
There are numerous other smaller popcorn vendors that offer traditional pop corn from a tent, but we can beat them to the game.
PRICING AND FORECAST:
We expect to sell popcorn at N100 per bag at out spots and N150 at outdoor events with a goal of hitting 50 sales per day on average. This will result in N5,000 and more on a daily basis and over 150,000 monthly and 1.8million and more yearly.
SALES GOAL
Our goal is to generate N5000 and more in sales each day.
MANAGEMENT STRUCTURE
As we grow the business, we will begin to evaluate different roles to bring in. We will hire part-time workers that could sell popcorn at events on weekends.
This would allow us to take time off, while still generating sales at a proven location.
We will also hire a bookkeeper part-time to help with accounting.
MY FIRST-DRAFT MENU.
Each popcorn comes in a large size clear plastic bag.
MAP OF VENDING LOCATIONS.
While at live events, we also hope to establish a strong social media marketing presence. By attending a lot of live events we will have plenty of opportunities to take photos and videos in fun locations and share those online. Overtime we hope to build a local following that we can use to help share our location and cross promote the events we're working. We will be focused on our website and Facebook as our primary social network initially.
QUINGIST NEEDED POPCORN EQUIPMENT
Seasoning Shakers
Aprons
Food Storage Containers
Moveable Electric popcorn machine
Fire Extinguisher
Protective Face Shield
Safety gloves
Paper bags
Copyright 2021 Quingistpopcorn www.quingistempire.com.ng | All Rights Reserved | Privacy Policy