#Sports: Congratulations to Tobi Amusan, 1st Nigerian ever to win gold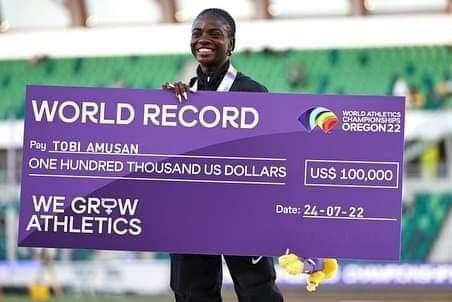 #Sports: Congratulations to Tobi Amusan, 1st Nigerian ever to win gold
Tobi Amusan became the first Nigerian ever to win gold ?at the World Athletics Championships after racing to a stunning world record time of 12.06s. (Due to too much tailwind, this record won't be counted)
She also became the first Nigerian to break 2 WORLD Records at the World athletics championships, first a 12.12s run in the semis and then a 12.06s run in the finals.
✅ Diamond ? League Champion
✅ World Champion
✅ African Champion
✅ Two World Records in one Night
History Maker, Wonder Woman.