Unlock the Future for Your Teen with Quingist Empire's Photography Training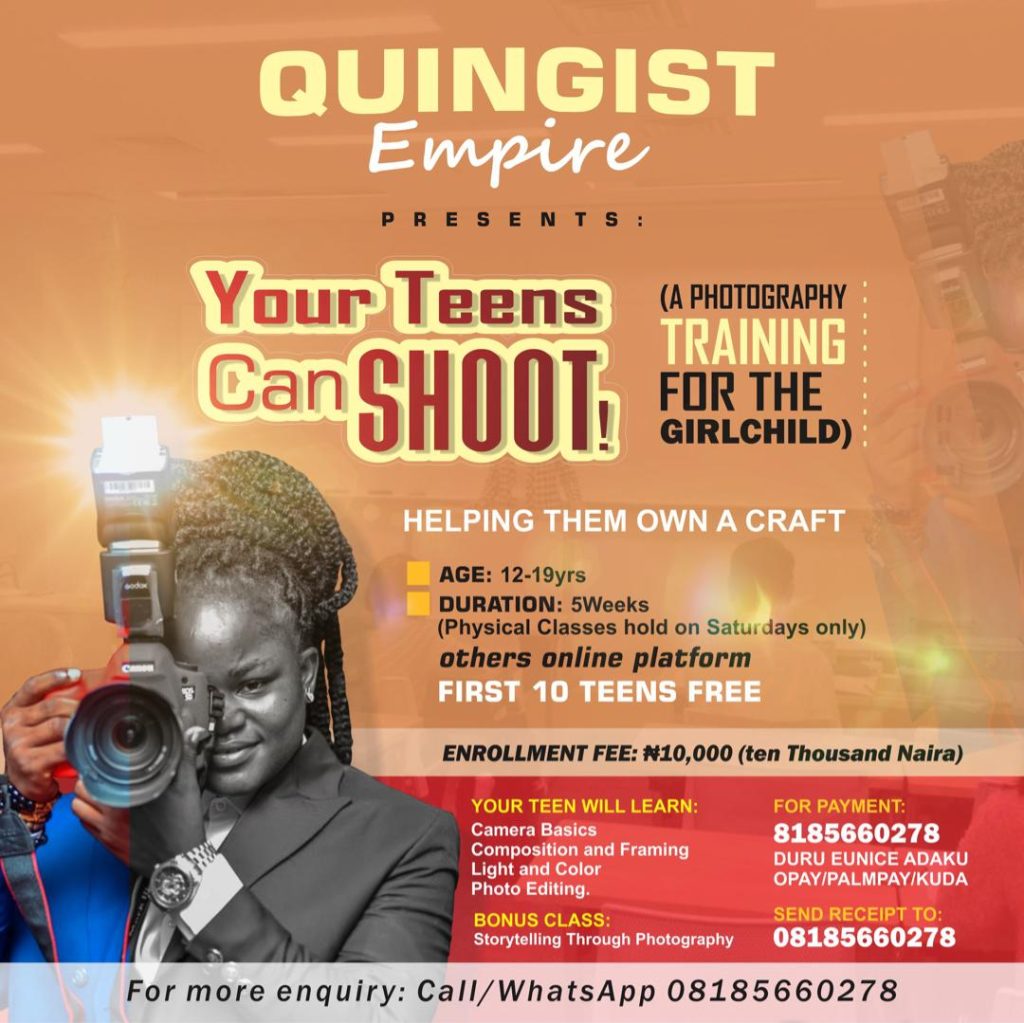 Unlock the Future for Your Teen with Quingist Empire's Photography Training
As a parent, guardian, boss, mentor, entrepreneur, or philanthropist, you have the incredible opportunity to shape the future of a teenage girl by sponsoring her in our "Your Teens Can Shoot!" Photography Training program. For just ₦10,000, you can empower a young mind to own a craft that will last a lifetime.
???? Photography: More Than Just Pictures
Photography is more than capturing images; it's about storytelling, creativity, and self-expression. By sponsoring a teen to join our program, you're giving her the chance to develop these skills and discover her unique voice.
???? Empowerment Through Art
Photography is a craft that empowers. It fosters confidence, critical thinking, and an artistic eye. Your sponsorship will help a young girl develop a skill that can be a source of pride and accomplishment.
???? Invest in the Future
By sponsoring a teen to learn photography with Quingist Empire, you're investing in her future. In a world where creativity is a prized asset, these skills will open doors to countless opportunities and possibilities.
???? Support Their Passion
Do you know a teen who's passionate about photography? Your sponsorship can make their dreams come true. Support their interests and watch them flourish.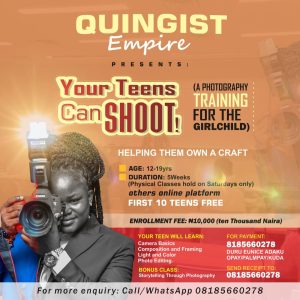 ???? A Transformative Journey
Our 5-week program covers camera basics, composition, lighting, and more. It's an educational journey that can change a teen's life and broaden her horizons.
???? Join Us in Making a Difference
This is your chance to make a tangible impact on a young girl's life. By sponsoring a teen for ₦10,000, you're giving her the tools to shine in the world of photography.
???? Act Now
Contact us at 08185660278 to sponsor a teen and make a lasting difference in her life. Be the guiding light that helps her embark on a journey of creativity, self-discovery, and empowerment.
???? Bright Futures Start Here
Together, we can inspire, empower, and change lives. Sponsor a teen to learn photography with Quingist Empire today, and watch them bloom into confident, creative individuals with a craft they can call their own.