#YouthBody: Justice Eluagu-led Imo State Nycn Hosts Youth Organisations In Imo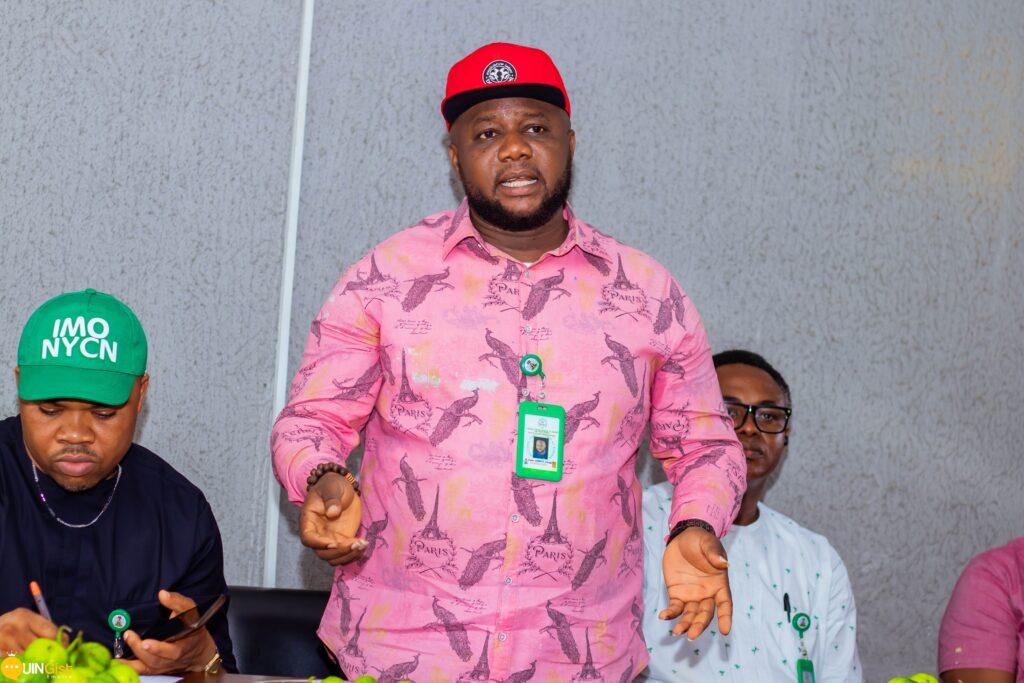 #YouthBody: Justice Eluagu-led Imo State Nycn Hosts Youth Organisations In Imo
…CHARGES YOUTHS TO BE DISCIPLINED, SOLUTION PROVIDERS
…DON'T LOOK BACK, LET'S MAKE PROGRESS TOGETHER— ELUAGU URGES
…AS YOUTH ORGANISATIONS IN IMO STATE PASS UNITED VOTE OF CONFIDENCE ON THE ELUAGU-LED COUNCIL
It was a colourful congregation of Imo state youths from scores of youth organisations in Imo state as the Comr. Justice Eluagu-led National Youth Council of Nigeria (NYCN), Imo state chapter on Tuesday, 14th June, 2022, hosted them at the Conference Hall of the Imo state Ministry of Youth and Sports Development at the state secretariat.
It was a fruitful parley in which the chairman who was inaugurated alongside his executive members on May 17, 2022, by the Honourable Commissioner for Youth and Sports Development, Hon. Dan Chike Ogu, whom he thanked for his fatherly role in bringing lasting peace to Imo NYCN, welcomed the Chairmen and Secretaries of various youth organisations present to a new era where peace and progress reigns supreme.
He noted that the coming of the all inclusive State Caretaker Committee has ushered in peace and progress as well erased the turbulent past where youths in Imo state had no recognition nor sense of belonging because of the crisis that raged for years in Imo NYCN.
"It is a fantastic era for Imo youth as peace as returned. The young people in this state are now happy. Imo NYCN is a platform that will give them joy and we don't have barriers. As long as you are a young Nigerian, you are entitled to join the platform from the grassroots and various youth bodies. There is no barrier; there is no barricade", stated the elated Chairman.
"As youths in this country, it is time to take over. It is time to be part and parcel of governance", he further opined.
Comr. Eluagu who outlined the positive achievements the SCC has made in less than two months in office having shown capacity and also disclosed the blueprint of the council for the future, charged Imo youths to brace up, equip themselves so as to be carried along in the scheme of things. "We must do everything possible to contribute our quota and see ourselves as part of the integrated development of this country", he urged.
In response leaders of various youth organisations unanimously applauded the peace that has returned to Imo NYCN and thanked the leadership of Imo NYCN ably led by Comr. Justice Eluagu for the breath of fresh air and the positive impact so far. They pledged to work assiduously with the Imo NYCN leadership to bring development, empowerment, prosperity to Imo youths as well as ensure that Imo youths begin to take up strategic leadership positions in governance.
The highlight of the meeting of galaxy of Imo youths was the UNITED VOTE OF CONFIDENCE passed on the Justice Eluagu-led Imo state chapter of the National Youth Council of Nigeria (NYCN) by all the youth organisations in Imo state.
As written by Ambassador Saviola Godwin,
Public Relations Officer, Imo Nycn.
Pictures by Quingist Empire