Dr. Linda The scholarship Queens will be live at JPI Annual Leadership Conference in Owerri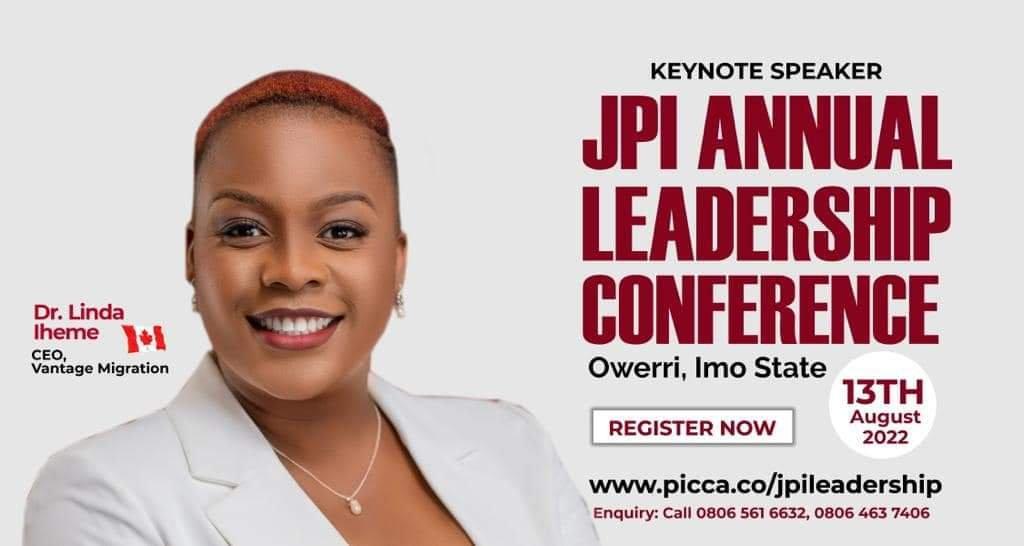 Dr. Linda The scholarship Queens will be live at JPI Annual Leadership Conference in Owerri
The scholarship Queens ? is coming to show you how you can live your dream through study abroad.
For Registration, Click to register NOW ?
The conference is FREE!!!
JPI ANNUAL LEADERSHIP CONFERENCE holding at Rockview Hotel, Owerri, Imo State, Nigeria, on the 13th of August, 2022.
With years of ground-breaking experience, Jamie Pajoel International has become a globally recognized NGO with operations in Canada and Nigeria. Jamie Pajoel International is a registered non-profit organization under the government of Canada to serve as a platform for human capital development.
This year, JPI ANNUAL LEADERSHIP CONFERENCE aims to engage a wide array of participants including Civil Servants, Lawyers, Doctors, CEOs, Civil societies, Founders and coordinators of NGOs, and some international delegates across other countries. The conference will incorporate case studies and best practices on redefining Leadership and Governance and bringing out recommendations that will help build sustainable systems and improve standard of living.
Conference Date: August 13th, 2022
Time: 10am-4pm.
Venue: Rockview Hotel, Owerri, Imo State, Nigeria.