HEALTHNAIRE SEMINAR: Your Health, Your Wealth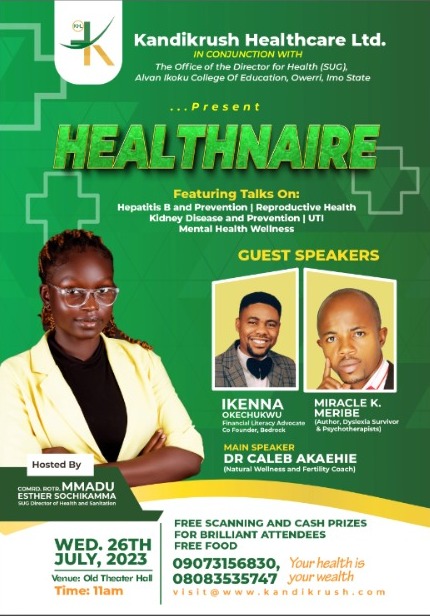 ???????? HEALTHNAIRE SEMINAR: Your Health, Your Wealth!????????
Kandikrush Healthcare Ltd., in partnership with The Office of the Director for Health (SUG) at Alvan Ikoku College Of Education, Owerri, Imo State, Mmadu Esther cordially invites you to a life-changing event, "Healthnaire" – a seminar on health affairs.
????️ Join us for enlightening talks on essential health topics:
???? Hepatitis B and Prevention
???? Reproductive Health
???? Kidney Disease and Prevention, UTI
???? Mental Health Wellness
???? Our esteemed guest speakers include:
????️ Ikenna Okechukwu Hectoriyke Okechukwu – Financial Literacy Advocate, Co-Founder, Bedrock Initiative
????️ Miracle K. Meribe – Author, Dyslexia Survivor & Psychotherapists
????️ Dr. Caleb Akaehie – Natural Wellness and Fertility Coach
???? The seminar will be expertly hosted by Comr. ROTR. Mmadu Esther Sochikamma, SUG Director of Health and Sanitation.
????️ Date: Wednesday, 26th July 2023 (today)
???? Venue: Old Theater Hall
⏰ Time: 11:00 AM
???? Don't miss your chance to win amazing prizes, including FREE SCANNING and CASH rewards for brilliant attendees. Plus, we've got delicious FREE FOOD to treat your taste buds!
???? For more information and inquiries, please call:
???? 09073156830
???? 08083535747
???? Your health is your wealth, and we are here to equip you with valuable knowledge and tools for a healthier and happier life. Join us at Healthnaire and take the first step towards a brighter and healthier future!
See you there! ????????????
Eunice Adaku Duru
26/07/2023
#globalphotographer